HEAVY RAIN NOW FALLING OVER COROMANDEL
Written by John Grant on June 24, 2020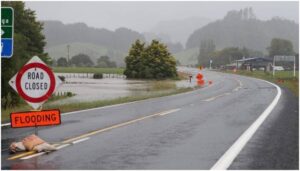 Steady falls of rain are happening around the Coromandel with heaviest falls happening in and around Coromandel Town and Thames/Kopu where we have reports of 23mm falling so far. (Source Personal Weather Stations). Lightest falls are in the South eastern end of the Peninsula around Whangamata.
We also have reports of slips on State Highway 25 Kopu Hikuai. Driving conditions are poor and extra care is needed. NZTA are recommending only essential travel to be undertaken, otherwise stay home.
There are no reports at this stage of road closures or any power outages. If you have any updates on this please let us know by calling 07 2800540 which is manned 24hrs or send us an email to hello@cfm.co.nz.
The latest MetService updates follow.
A complex low over the Tasman Sea moves slowly eastwards, and its associated fronts move southwards over the upper North Island from Wednesday night to Friday. These fronts are expected to bring rain to northern and eastern parts of the North Island, with a period of easterly gales just ahead of the front tonight (Wednesday) and Thursday morning.
A Heavy Rain Warning is in force for the Coromandel Peninsula, western Bay of Plenty including the Kaimai Range, and Gisborne.
A Heavy Rain Watch remains in force for parts of Northland and Auckland, and now includes the ranges of Hawkes Bay.
A Strong Wind Watch remains in force for Auckland, Coromandel Peninsula, northern parts of Waikato and western Bay of Plenty, and now includes Nelson west of Takaka.
People are advised to keep up to date with the latest forecasts in case any changes are made or further areas are added.
===========================
HEAVY RAIN WARNING – ORANGE
===========================
Heavy rain may cause streams and rivers to rise rapidly. Surface flooding and slips are also possible and driving conditions may be hazardous.
Area: Coromandel Peninsula
Valid: 16 hours from 10:00 pm Wednesday to 2:00 pm Thursday
Forecast: A period of heavy rain with isolated thunderstorms. Expect
90 to 140mm of rain to accumulate. Peak intensities 15 to 25mm/h in general, but possibly 25 to 40mm/h in thunderstorms and localised downpours.
Note, further rain or showers are expected during Friday.
The Peninsula is also subject to a Severe Thunderstorm Watch;
SEVERE THUNDERSTORM WATCH
Issued by MetService at 08:54 pm Wednesday 24 June 2020
Valid until 11:00 am Thursday 25 June 2020
This watch affects people in the following weather forecast districts:
Great Barrier Island
Coromandel Peninsula
Bay of Plenty
A front is expected to move slowly south over Great Barrier Island, Coromandel Peninsula and western Bay of Plenty during Thursday morning. There is a moderate risk of thunderstorms associated with this front, some of these may be severe bringing localised downpours of 25 to 40mm per hour.
Rainfall of this intensity can cause surface and/or flash flooding, especially about low-lying areas such as streams, rivers or narrow valleys, and may also lead to slips.
Note: A Severe Thunderstorm Watch means conditions are favourable for severe thunderstorms in and close to the watch area. People in these areas should be on the lookout for threatening weather conditions and monitor for possible Severe Thunderstorm Warnings.
A Strong Wind Watch is in effect as follows;
Area: Coromandel Peninsula, also Waikato and Bay of Plenty north of Te Awamutu to Rotorua
Valid: 14 hours from 10:00 pm Wednesday to 12:00 pm Thursday
Forecast: Easterlies are expected to rise to gale in exposed places, possibly reaching severe gale at times.
---
Reader's opinions
---