SKY TOWER CLIMB – Last Donations Welcome
Written by John Grant on August 19, 2022
A team of Whitianga firefighters are doing Auckland highest stair climb tomorrow and for a great cause – Leukaemia and Blood Cancer.
They have 5 firefighters in the event – Ian Cox, Ange Maclardy, Adam Collier, Karina Bergshoeff and Sean King. At 58 years young, Ian is the oldest of the Whitianga team doing tomorrow's climb and he's doing 60 floors where the others are finishing at a mere 51 floors. It will be Ian's forth climb and Sean's 8th, the other three are heading up the stairs for the first time. All will be wearing 16kg oxygen tanks as well as full firefighter kit.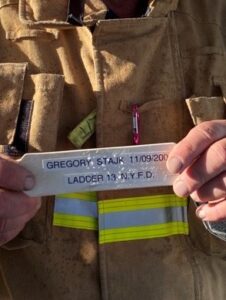 It's an annual event for the committed members of the Whitianga brigade. After this climb, Ian will be back doing the climb again on 9 September to remember the firefighters who died in the twin towers tragedy in New York on 9 September 2001. He will be carrying the tag of Gregory Stajk who was with the Ladder 13 NYFD and lost his life in the terrorist attack. In this climb Ian will have a steel air tank that weighs around 8 to 10 kg's more than the 16kg tank he will be carrying tomorrow.
So far the team has raised just under $16,000 and Ian and the others want to express their thanks to everyone who has donated money towards this great charity. They would love to see it reach or exceed the $16,000.
You can hear updates on the climb with Jason tomorrow morning on CFM. For anyone in Auckland who wants to cheer the group on. Ian starts at 10:30am and the other 4 will commence at 12:30. It's not too late to donate. Just head to their Facebook page here to find the details on how you can help them reach $16,000 (or higher).
---
Reader's opinions
---