SATURDAY MORNING COVID UPDATE
Written by John Grant on August 21, 2021
Here is this morning's update on the most recent news we have for local residents of the Coromandel and Hauraki areas.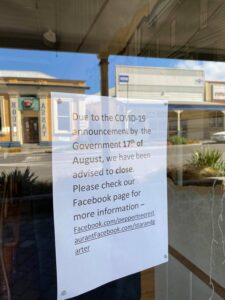 So far there have been no positive results from thousands of tests carried out on the Coromandel We understand that over 1000 tests have been completed in Coromandel Town and many more in Thames and at local doctors in other areas around the Coromandel.
Staff at the Woodturners Café have all been tested and have returned negative tests. As close contacts they will also need day 5 and day 12 testing but so far so good. Results of tests in Coromandel Town are slow to come back. We sought feedback from local people in the area who had been tested for Covid and 65% responded saying they were still waiting on their results; some had been waiting 3 days. The expectation given at the start of testing was a turnaround of 48 hours. However, that was before Locations of Interest around Auckland and the Coromandel grew to over 200 and testing levels skyrocketed.
Comments from locals like Dawn said "Some of my household have not had results and they're needing 3 tests. Mine took 18 hours for results then I got another msg 50 hours later" and Shontae who said "Our household got tested on Thursday and still no results. I guess we have to be mindful of the rest of the country too!".
Wastewater testing has also been mentioned. We understand that this will have limited meaning in Coromandel Town where many properties are still on tanks however testing is being done at most towns on the Coromandel and we can expect results tomorrow.
We have asked the Ministry of Health for specific results for the Coromandel and are yet to have a response. We will keep pressing for this information. If Coromandel Town is a guide the 1000 or so tests done have so far been negative however there could be 600 odd results still waiting to be sent.
We have been told to expect more positive results today and news of exposure from positive delta cases in large venues is very concerning. We can just wait now and hope the results for our area continue to be negative.
---
Reader's opinions
---