COROMANDEL COVID UPDATE – Sunday morning 22 August
Written by John Grant on August 22, 2021
Here's todays update for Sunday 22 August.
Overnight there have been no cases on the Coromandel reported and wastewater results continue to show no trace of covid-19. We remain so far Covid free.
Record numbers of people have had Covid tests completed, levels that caused Dr Ashley Bloomfield to specially mention Coromandel Town for the number of people going for tests compared to the size of the town.
Our observation is that the Ministry of Health appears to be focussing on areas other than Coromandel with several specific requests to their media team going both unanswered and not even acknowledged. We have spoken to senior media staff at the Ministry but are still waiting on written responses.
Its now been over a week since Case A arrived for a weekend trip to the Coromandel. What we know through research is that some people spread the virus, and some don't. In this case, the Devonport tradesman's wife who was fully vaccinated did not become infected with the virus, suggesting that Case A was not one of the super spreaders. His work partner did get Covid, but it is still not clear if he got it first and passed it to Case A or viva versa.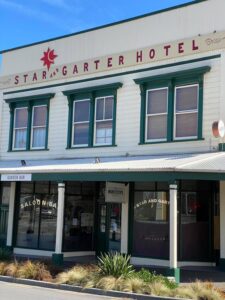 There was every opportunity for this to spread around the places he visited in Coromandel Town but so far all tests are negative.
However, this now turns to testing and specifically the speed of receiving test results. Obviously the system and those who do the test analysis are struggling to cope with the huge surge of tests. It would appear that priority is being given to tests from areas with known cases or Covid or from places where wastewater sampling is recording traces of Covid, such as Warkworth.
We have numerous reports of delays of 3 to 4 days for test results. Last night I heard of a case in Tairua where the person was tested by a local GP on Wednesday and as at last night had not received a result. The official word is the time frame has moved out to 72 hours, but it seems to be well beyond that timeframe.
We understand the police are concerned by the amount of traffic movement around the Coromandel. Previously we are aware that they had been running random stops to step up compliance and we can probably expect more of these as they move to enforce the level 4 lockdown rules.
What we do know is that the virus is spreading and moving south from the epicentre in Auckland with a case of a staff member of Pukekohe High School testing positive. This should be a timely reminder that we are not far from where the virus is, and it is on the move. We should continue to be alert, stay home, and follow the rules.
Tomorrow cabinet meets and the likelihood of an extension to level 4 remains high, almost a certainty for Auckland and Wellington. Coromandel may be treated a little differently if the area remains Covid free when the review happens tomorrow?
We will update again after the 1pm briefing or when we have any news to pass on.
---
Reader's opinions
---